A 17-year-old vocational school student reportedly leapt to his death from a Shenzhen factory dormitory on 25 June after being forced to work under grueling conditions as part of a mandatory "internship."
A 17-year-old vocational school student reportedly leapt to his death from a Shenzhen factory dormitory on 25 June after being forced to work under grueling conditions as part of a mandatory "internship." A plea for justice written by his migrant worker father was initially censored. 
In screenshots circulated online, his father wrote that his son, surnamed Yu, was studying for a vocational diploma in computing at Shiyan Hanjiang Technical School in the central province of Hubei. 
As part of the course, the school bussed more than 90 students to a factory 1,500 kilometres to the south, in Shenzhen. The factory produces electrical components and is run by a subsidiary of Hong Kong listed company Wong's International Holdings Ltd.
Yu was forced to work ten-hour night shifts and assigned physically strenuous tasks moving boxes that weighed over 20 kilograms each. He was paid 26 yuan per hour, with 12 yuan going to his school as commission. The minimum wage in Shenzhen is 20.3 yuan per hour for non-full-time employees.
The factory allegedly told the vocational school students that if they did not complete their three-month "internship" they would not be allowed to graduate. This threat was backed up by the school. In a WeChat message sent to students, a school representative reportedly said that it had expelled three students for being absent from work and "treating company discipline as a joke."
The factory treated any no-show as absenteeism, even in cases of illness and work-related injuries. During his time at the factory, Yu developed stomach issues and often slept through lunch, missing his meals. He sent his father pictures of his hands rubbed raw. When he cut his head and broke his glasses on the factory floor, his manager taped his glasses to his head and ordered him back to work. 
In Yu's last conversation with his father, he said, "I truly can't bear this anymore. I don't want to do this." His father told Yu to endure it so that he could graduate. When his father asked him if his manager had beaten him, Yu replied "It's not convenient to speak." 
On 24 June, Yu asked for leave to repair his glasses and received his manager's approval. But the next day, his teacher announced in the class WeChat group that Yu had been absent from work, and any further absence would mean he could not graduate. Fifteen minutes after that message was posted, Yu jumped from the sixth floor of his dormitory building. 
Instead of investigating the company, police facilitated a cover up, requiring security guards and Yu's classmates to delete pictures of the scene. The school teacher who had accompanied students to the factory forced three of them to return home. Neither the factory nor the school contacted Yu's father about his son's death. It was his son's classmate, who was also working at the factory, who was first to notify him. 
Several local government departments have since intervened, ordering the company to compensate Yu's family and for the family to sign a confidentiality agreement. A family member of Yu has claimed that the government also promised them an investigation into the company, school, and intermediaries involved.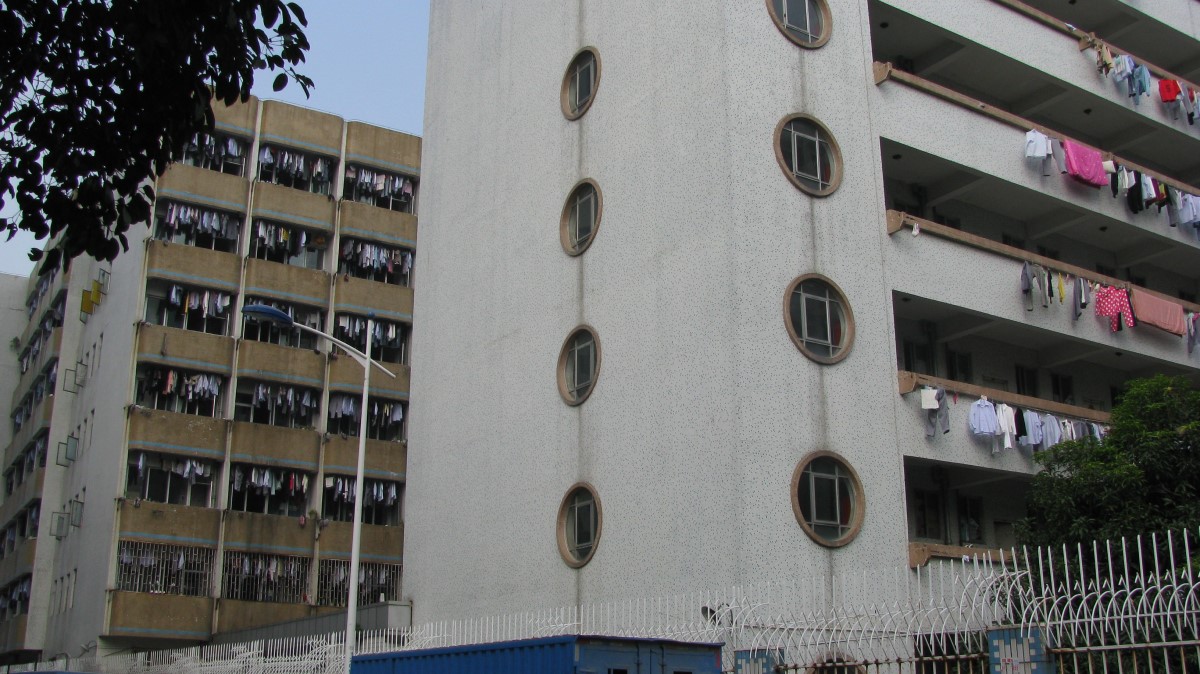 A typical factory dormitory building in Shenzhen
In 2011, China Labour Bulletin published a report on the widespread abuse of the internship system by vocational schools looking for funds and factories wanting cheap, temporary labour. The placement of students in jobs completely unrelated to their majors, long working hours, and threats to withhold graduation certificates were all common practice at the time.
Other reports of forced internships have surfaced at regular intervals over the last decade. Several companies embedded in global supply chains, like Foxconn and Pegatron, were found to have used vocational students as disposable labour, most recently at the massive Foxconn facility in Zhengzhou in 2017. 
CLB called the Hong Kong office of Wong's International Holdings Co., and a representative said that he was unaware of the incident.   
Yu's case shows that the problems embedded in China's vocational school system have yet to be resolved despite decades of talk about the need for reform. 
The 2011 CLB report listed a raft of existing legislation and regulations designed to protect the rights of interns. The Ministry of Education added to this in 2018 when it issued regulations stating that vocational school internships should be consistent with what the student is studying and that schools should not take any commission. 
However, legal protections are widely flouted and the local authorities, as in Yu's case, are usually more interested in covering up any embarrassment than protecting the rights of children.