The number of protests by construction workers has surged in the last four months, as residential and infrastructure projects in China continue to stall.
The number of protests by construction workers has surged in the last four months, as residential and infrastructure projects in China continue to stall. 
China Labour Bulletin's Strike Map recorded 151 construction worker protests between May and August, compared with just 39 cases in the first four months of 2020. Nearly all are related to wage arrears.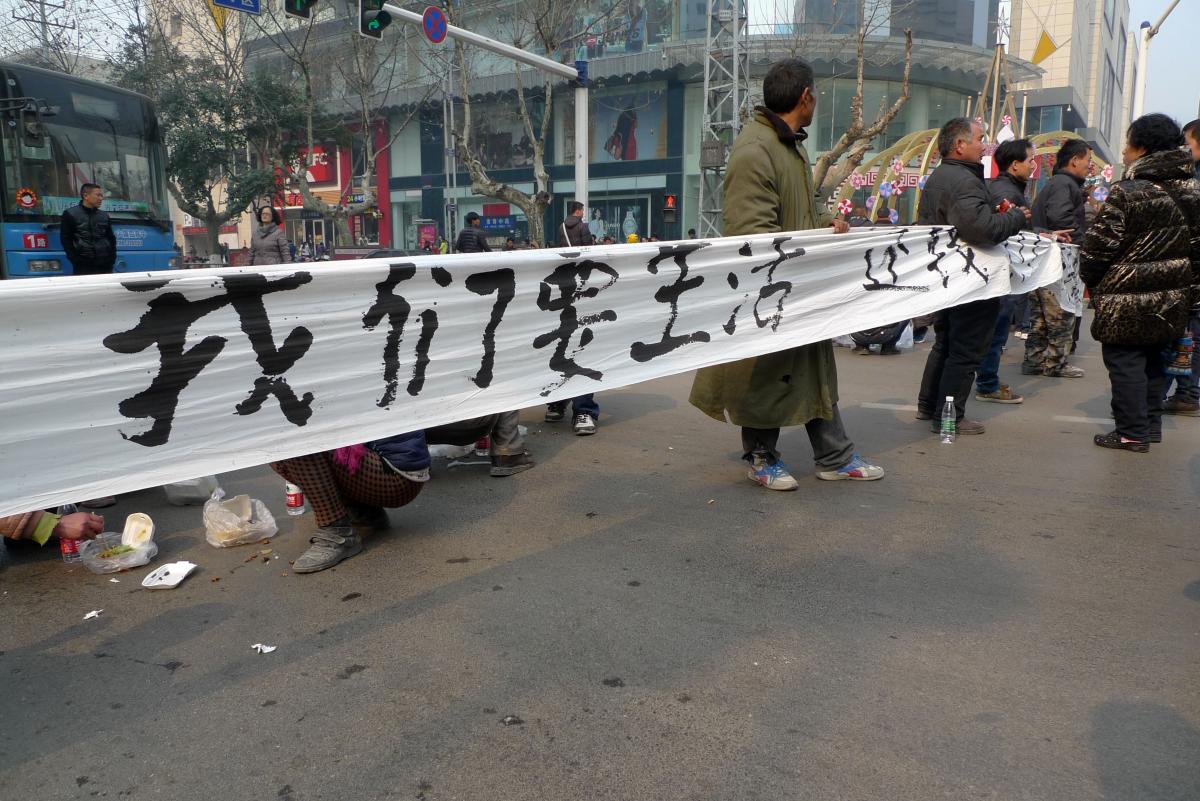 Although the overall number of worker protests across all industries is still lower than during the same period last year – primarily due to the impact of the coronavirus pandemic – the proportion of construction worker protests has increased from 38 percent to 43 percent.
Out of the 151 construction industry incidents in the last four months, 62 protests related to infrastructure projects, and 43 related to residential property projects.  The proportion of residential property development disputes is on rise.
The volume of housing transactions in China, measured by floor area, sank to its lowest level in five years during the first quarter of 2020. And although the market began to recover once the pandemic was largely brought under control in late April, cash flow problems and continued economic uncertainty have led to a glut of wage arrears disputes in the construction industry.
Of even greater concern is the fact that many of these disputes involve major state-owned enterprises (SOEs) that are normally a paragon of financial stability. In fact, more than 40 percent of all protests by construction workers so far this year have involved major SOEs, compared with less than 25 percent in the whole of 2019.
On 26 August, for example, a group of workers at a residential property development in Beihai, Guangxi, staged a protest reportedly demanding the payment of wages in arrears from China's second largest property developer, the Evergrande Group, and China Railways Engineering Group.
Another worrying development is the increase in harsh and violent responses to worker protests when workers become desperate to get paid. More than 20 percent of the protests recorded on the Strike Map so far this year involved violent suppression by the company or arrests by the police, compared with just 14 percent in 2019. In one recent case, on 3 September, a worker was dragged into a site office and badly beaten during an argument with managers at a construction site in Chengdu.
In one of the largest construction sector protests seen in the past two years, at least a dozen workers were beaten during a protest in Huixian city, Henan, on 12 January 2020. The developer reportedly owed more than ten million yuan to about 100 workers who had been ejected from the work site with no explanation. Even after the local government intervened, the company still refused to pay the wages owed..  
Back in 2017, the Ministry of Human Resources and Social Security optimistically announced a "three year action plan" to eliminate wage arrears by the year 2020, particularly for migrant workers in the construction sector.  
The government's top-down administrative approach to wage arrears has clearly failed to achieve its goals, and as CLB points out in our research paper on the construction industry published in 2019,  a radical shake up of the industry is needed for wage arrears to become a thing of the past. Crucial to this endeavour will be the active involvement of China's trade unions in organizing workers and negotiating sectoral collective agreements that guarantee the payment of wages and social security contributions in full and on time every month as stipulated by law.