Most trade union officials in Shandong understood that they had a responsibility to organize delivery workers but seemed unable to shake off their traditional shackles and find a way to cut through the red tape.
As part of China Labour Bulletin's ongoing trade union reform and accountability program (工会改革观察与促进), we interviewed several trade union officials in the eastern province of Shandong regarding eight strikes and collective worker protests that occurred there between February and March this year and were recorded on CLB's Strike Map. Half of these cases involved app-based express delivery and food delivery workers.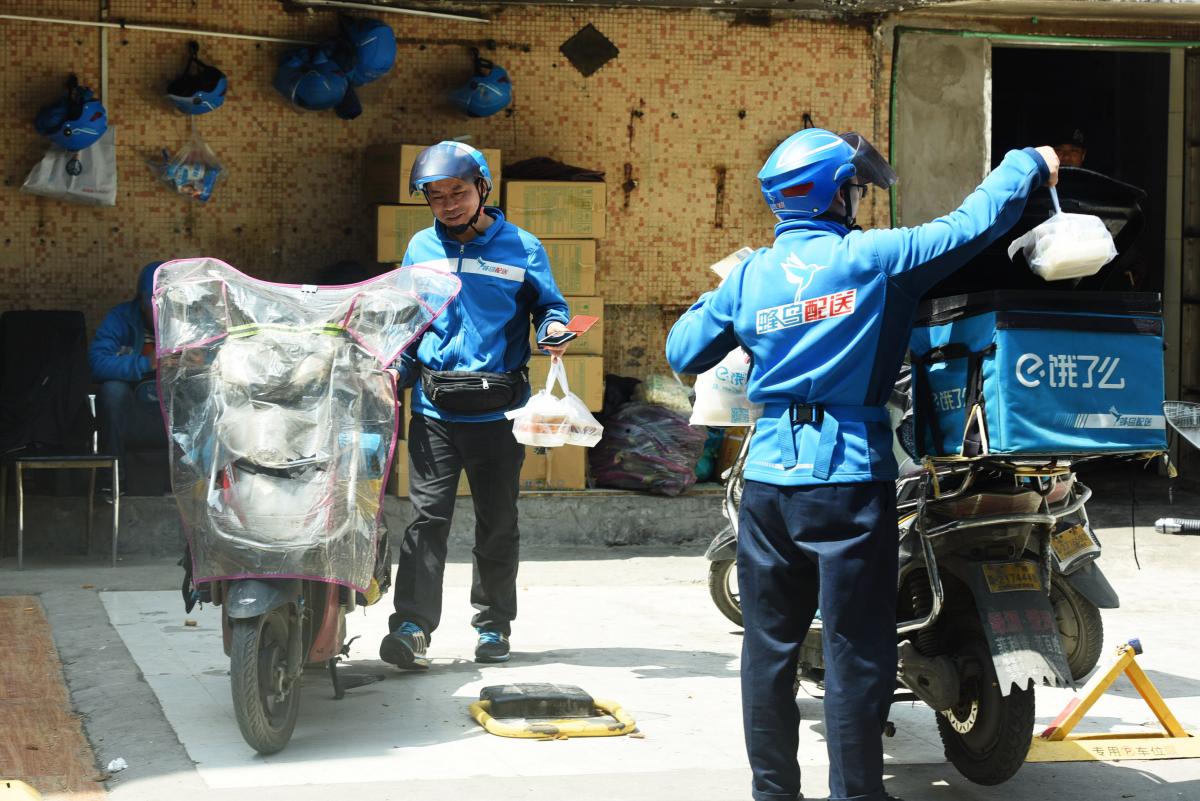 There are an estimated 70 million workers currently employed in app-based sectors like express delivery, food delivery, ride-hailing, logistics etc. However many have a very precarious labour relationship and are vulnerable to exploitation. Workers routinely respond to management abuses with collective action, and the high proportion of incidents in the Shandong case study shows just how volatile these app-based industries have become.
There is clearly an urgent need for China's trade unions to take action to protect and help organize workers in these industries, and the All-China Federation of Trade Unions (ACFTU) has, in theory at least, recognised this need. The ACFTU launched an initiative in 2018 to Recruit Eight Groups of Workers as Trade Union Members that focused in particular on transport and logistics. The Ministry of Human Resources and Social Security also proposed amending the Regulations on Work-related Injury Insurance to include app-based workers despite many not having formal employment contracts. Recently, the Beijing municipal government promulgated a new policy requiring delivery companies to sign employment contracts with workers to ensure they are protected by labour law, and in particular have adequate insurance in the event of traffic accidents.
In Shandong, however, progress has been slow. Generally speaking, even though local officials had been instructed to recruit delivery workers, many did not know how to do so. Many officials simply followed the outdated procedure of asking for a company's consent to establish an enterprise union. There was little union representation in the sector, and there was no sectoral collective bargaining or collective agreement between trade unions and enterprises. 
Many workers had no option but to stage collective actions in order to solve their labour disputes, bypassing the union entirely. All of the local trade union officials in Shandong contacted by CLB were unaware of the collective action taken by express delivery and food delivery workers in their administrative districts.
The organization department of the Linyi municipal federation said they did not know how to organize delivery workers and suggested that we approach the Shandong provincial federation of trade unions. Likewise, the Weihai municipal federation of trade unions had not yet started to organize delivery workers. One Weihai official even said that some delivery workers had been turned down by the municipal federation when they applied to join the union.
One day some delivery workers came to the union office and asked about setting up a sectoral union or an enterprise union in the delivery industry. We passed the inquiry to the responsible department. In the end, it was decided that the enterprise these workers were employed in was not part of the 'Eight Groups' that the ACFTU had specified, so we could not solve the issue for these workers. Of course, because they are doing logistics and express delivery, they are technically part of the transportation sector. However, our department did not count these particular workers as qualified.
The union officials in the North City district of Qingdao did have some experience in establishing trade unions in the delivery sector, although their approach was very much constrained by traditional thinking. Organization department head Director Xue outlined two general rules for establishing delivery worker unions: first, unions should be established by the enterprise, not by workers, and second, enterprises should only establish one union branch, located in the district they were headquartered in, and workers in other districts would have to join that one particular union. 
For example, he said, SF Express is headquartered in Chengyang district in Qingdao, so all those working for SF Express in the neighbouring North City district would have to go and join the union in Chengyang. There was one delivery worker union in the North City district, established by FedEX, but Director Xue did not know the number of union members in this particular union because "this [was] a matter of the lower level sub-district union, and things would have to be checked with them later."
Delivery unions are established at the sub-district (街道) level, however, it seems that collective negotiations in this sector are managed by the municipal federation. Director Xue said he did not have any experience in collective bargaining himself.
There is a special officer in the municipal union who is in charge of sectoral union issues. In district unions, there are not many sectoral unions. It is difficult for different districts to organize sectoral negotiations. In fact, since these enterprises are all over the city, the municipal federation is the one that negotiates.
Our interviews in Shandong demonstrate once again that many union officials are still hiding behind bureaucratic procedures and creating territorial administrative barriers that prevent them from getting involved in labour disputes and helping aggrieved workers negotiate with their bosses.
Most trade union officials understood they had a responsibility to organize delivery workers but seemed unable to shake off their traditional shackles and find a way to cut through the red tape.