There have been at least six collective protests so far this year by professional footballers in China who are owed millions of yuan in back pay.
Following their 2-0 victory over the Qingdao Red Lions last weekend, nine players from Jilin Baijia walked back on to the pitch to display a banner calling for the payment of wages in arrears and their promised bonus. Photo below from social media.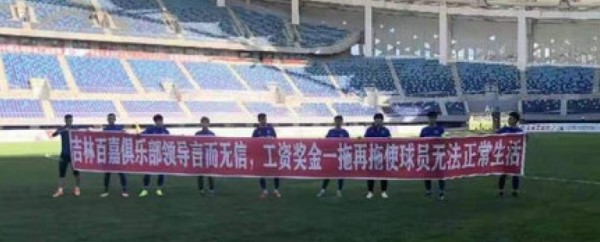 It was the sixth time that players from teams in China's troubled League 2 (中国足球协会乙级联赛) had staged collective protests over wage arrears just this year.
Prior to their game on 7 September, several players from Nanjing Shaye staged a protest claiming that they had only been paid about three month's wages so far this year. Like many other teams in the league, Nanjing Shiye is struggling financially and is looking for new investors.
Other teams are in an even more precarious situation. Dalian Chanjoy, for example, reportedly has less than 50 yuan in its bank accounts and owes its players around seven million yuan. The players took collective action on 5 June this year to demand payment of five months' wages.
The players at Ningxia Fiery Phoenix have staged two collective protests so far this year in May and August. Wage arrears at the club reportedly total about 15 million yuan. However, unlike players at many other teams who are looking for transfer opportunities, the Ningxia players say they are determined to stay at the club and put on good performance in the hope of attracting new investors. The players fear that if the club goes bankrupt, they will not get a cent. The team, also known as Yinchuan Helanshan, is currently placed fifth in League 2's northern division.
In January this year, just before the Lunar New Year when millions of construction workers traditionally demand payment of wage arrears, players from Hainan FC, owned by real estate developer, R&F Group, staged a protest demanding payment of 5.5 million yuan in wage arrears.
One team member, Li Changliang, who joined Haikou FC last year, compared the players to migrant construction workers who had been cheated out their wages by a labour contractor and were now desperate to get paid before the holidays.
There are 32 teams in the League 2 (China's third-tier league) and many of them are in financial difficulty. The league lacks the glamour and international stars of the Super League and teams regularly play in virtually empty stadiums and struggle to attract sponsorship and television broadcast royalties. There have also been examples of match-fixing, which have further tarnished the league's reputation.
Wage arrears is a long-standing problem in the league and despite threats by the Chinese Football Association to disqualify teams that don't pay their staff, there is little sign that the situation is improving. Indeed, as the Chinese economy slows further, it seems less and less likely that domestic companies will be willing to invest in loss-making League 2 teams.
See CLB's Strike Map for more details of the collective action taken by China's professional footballers.