In this case study from China Labour Bulletin's ongoing trade union reform and accountability program (工会改革观察与促进), we talk with a district trade union veteran frustrated with the inability of enterprise unions to stand up for their workers.
In this case study from China Labour Bulletin's ongoing trade union reform and accountability program (工会改革观察与促进), we talk with a district trade union veteran frustrated with the inability of enterprise unions to stand up for their workers.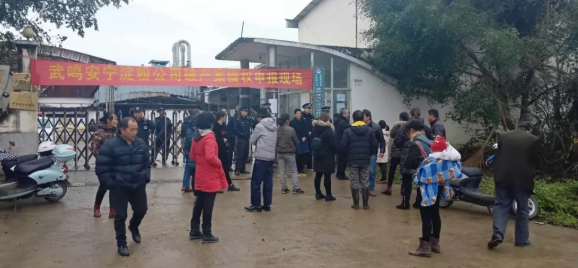 The incident: The privately-owned Anning Starch factory was, at its peak, one of the leading manufacturers in the southwestern city of Nanning. It employed hundreds of workers and had a well-established trade union. However, in 2018, the company suddenly declared bankruptcy and the boss vanished without paying the workers' wages. On 5 January 2019, hundreds of workers staged a protest demanding the payment of their wages. 
The response: In March 2019, we called the Wuming District Federation of Trade Unions in Nanning to follow up on the incident and were put in touch with the head of the Labour Protection Department, Ms. Qin. The department is responsible for handling labour disputes and Ms. Qin was well-aware of the protest. In fact, she said, the union had been involved since the beginning of the labour arbitration process. 
Ms Qin, a 20-year trade union veteran, was happy to discuss the case with us as well as the wider role of enterprise trade unions. She explained that both the enterprise and district trade unions had been blindsided by the sudden closure of Anning Starch Co. The factory had in place a collective consultation system with the trade union to determine wage levels for employees however the system was clearly of no use in preventing the factory shutdown.
Trade unions hardly get any hint or notification from the boss that the company is in trouble and might go bankrupt. Enterprises never share that kind of information with the trade union. We [district federation of trade unions] asked enterprises to sign collective wage agreements and they did so, but that is all they did. We could not follow through to the next stage. We do not know what is happening in the factory thereafter.
We asked why the enterprise trade union chairman would agree to go along with such a superficial system that offers no real protection to its members. Ms. Qin explained that the enterprise union chairman was simply following orders from the higher level union. Moreover, she said, the content of the collective agreement simply followed existing laws and regulations on wages and working conditions. It was very far from a real collective agreement, one that would have reflected the collective bargaining power of the workforce. 
In Anning Starch Co., as in other privately-owned factories in Wuming district, Ms. Qin said trade unions just signed pro forma agreements that could not really protect workers. So when labour disputes broke out, the enterprise union had no authority to fight for the rights and interests of the workers, and the district federation would have to step in,
It is really hard for a private enterprise trade union to stand up and defend workers' rights. We have to unite the employees and the trade union, and go through the labour arbitration process, this is the only way we can solve labour disputes currently… Every month we go to the labour arbitration court to see if there are cases that we can follow up. Workers nowadays don't trust the enterprise trade union or its leaders to solve their disputes, they trust labour arbitration and they submit their appeals individually, so I have to go there to know what is going on and see if we can offer help.
Ms. Qin felt that enterprise trade unions could not really defend workers' rights, and moreover that the role of trade unions was getting weaker and weaker. In Wuming district, she said, the on-going trade union reform program was very bureaucratic and did not really focus on solving systemic problems inside trade unions.
Regarding organizing workers, we developed a slogan that "wherever there are workers, there should be a trade union," however I think this is quite problematic. There are a lot of small business owners with only one or two employees, how could you ask them to set up a trade union? I don't think such organizing is normal, even though it seemed to be following the trade union reform. It would be better to include them in a sectoral trade union. By asking three employees to set up a trade union, we would certainly increase the number of trade unions, but would that really develop the trade union movement and allow unions to function properly?
In Wuming, as in many other districts, the establishment of trade unions and collective negotiation systems in private enterprises seems disconnected from the workforce. The main concern of the higher-level unions is to boost the number of unions and agreements without any consideration for workers' actual needs. This is the reason, Ms Qin said, enterprise unions are powerless to detect or prevent labour disputes before they escalate into collective protests.
"We really don't know the enterprises very well. Trade unions should learn about the situation in enterprises, understand what workers are concerned about in terms of their rights and interests. But we are far from knowing anything. This is our weakest point."
The Anning Starch factory is currently undergoing a fixed assets valuation. The workers' wages in arrears have been audited by the labour arbitration court, and once the asset valuation process is concluded, the district union says it will ensure that workers are paid first.
Please see our original Chinese-language analysis of the case工会改革观察与促进 第六期 广西(第1/10个案例) and full transcript of the Wuming interviews 广西案例 1/10 文字稿:南宁淀粉厂倒闭欠薪 for more details.