In this case study from CLB's ongoing trade union reform and accountability program, we discuss the response of trade union and local government officials in Sichuan to a typical construction workers' wage arrears case
In this case study from China Labour Bulletin's ongoing trade union reform and accountability program (工会改革观察与促进), we discuss the response of trade union and local government officials in Sichuan to an all too typical construction workers' wage arrears case. The trade union was unaware of the case and claimed they were not really involved in resolving wage arrears cases but were now focused on the government's flagship poverty alleviation program.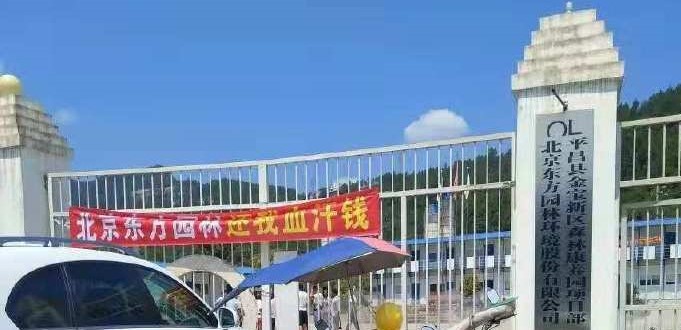 The incident: The announcement in 2016 that well-known Beijing construction company Orient Landscape had won a bid for a 750 million yuan project in Pingchang county, Sichuan, was big news for the local economy and enthusiastically welcomed by the county government. However, the company soon developed a cash flow crisis and the construction project started to delay payment to subcontractors in April 2018, resulting wage arrears for a number of workers and causing a headache for the local government.
After negotiations, Orient Landscape promised to pay its subcontractors by 10 June. However, payment was delayed until July, and then delayed again. The Pingchang county government tried to mediate and sought to establish a "migrant workers' wage protection fund" but the proposal was rejected by Orient Landscape.
On 7 November 2018, a group of construction workers staged a sit-in protest at the Orient Landscape construction project in Pingchang to demand payment of their wages.
The response: The following month, CLB called the Pingchang County Federation of Trade Unions. The officer we spoke to said the union had never heard of the construction company and knew nothing about this major project in its backyard.
We don't know of this incident, we never heard anyone from any department informing us that there is an ongoing wage arrears problem and that the union needs to assist them. We never received such an order. We provide legal assistance in the union now, but no one informed the union about this incident. We have never heard of it… This company, this incident, what you told me is totally new and strange to me. I don't have any clue.
The union officer suggested instead that we contact the local government or the local construction bureau to follow up on this incident. The officer insisted that if the unions were to help workers, the workers first needed to approach the union in person.
We did not say that we do not help migrant workers resolve wage arrears, we do recognize that it is our obligation to do so. However, the workers must come here to see us first.
After much discussion in which we urged the union to be more proactive and approach the workers directly, the union officer finally agreed to note down the details of this incident and report it to the department head, in the hope that the department head could consult with the construction bureau.
When we contacted the Pingchang county construction bureau we were told that the construction site in question was the responsibility of a lower administrative district and that the county bureau was not responsible for the wage arrears incident. However, the official did say the country had set up a dedicated unit for solving migrant workers' wage arrears issues.
In our bureau here in Pingchang, we have set up a committee for solving migrant workers' wage arrears. We have a special office for this issue… It is led by our government but the trade union is not playing a role in it.
To understand more about the what the union was actually doing, we contacted Director Liu of the Pingchang County Construction Industry Union. He was the only full-time officer in the union, and he was out of the office working on a "poverty alleviation" project in the countryside when we called. However, he took our call on his mobile phone.
Like the other trade union officials, Director Liu was not familiar with the Orient landscape case. He did however agree to discuss the problems his office faced in recruiting construction workers to the union. Director Liu blamed institutional obstacles over which he had no control.
We have to ask for instructions from above. We are a lower level organization, our role is simply to listen to orders, and execute policies where there are existing policies. I have to ask for orders from County Trade Union Federation. 
Director Liu agreed with many of our suggestions regarding trade union reform such as recruiting more construction workers and representing workers in collective bargaining but he said it was impossible for low-level officers like him to change the union from the ground up.
Trade Union Reform has to be top down. We can't reform by ourselves. We can't do it in our department… if there is no plan from the higher levels, we won't do anything. We don't dare reform from the bottom up if there is no reform higher up.
Moreover, Director Liu explained that local union officials like him were all busy with poverty alleviation work in rural districts. The poverty alleviation program, designed to eradicate absolute poverty by the end of 2020, is one of President Xi Jinping's signature policies and all available resources in poor rural areas have been utilised to make sure targets are met.
I think your suggestions are very good, yet we have a heavy burden with poverty alleviation right now. All officials in the western rural areas have to participate in it, not just trade union officials, but all government officials now."
While the union in Pingchang county is focusing on poverty alleviation however Orient Landscape is in even deeper trouble, with nearly two thirds of its employees laid off and workers across the country owed an estimated 300 million yuan as of April this year.
For more details, please refer to the original Chinese language analysis of this case and the overall report on eight cases in Sichuan from the same month.