At least 47 dead, over 90 people severely injured in a massive explosion on Thursday afternoon at a pesticide plant in Xiangshui county, Jiangsu province.
At least 47 people died, 32 were in critical condition and 58 severely injured in a massive explosion on Thursday afternoon at Tianjiayi Chemical Co., a pesticide plant in Xiangshui county, Jiangsu province.
The fire engulfing tanks containing flammable chemicals "was three to four stories high" remembers an eyewitness. "There were two explosions," the survivor told Caixin, who added, "the first explosion was smaller, the second one massive. The roads were full of people running for their lives, parked cars were all damaged by the explosions."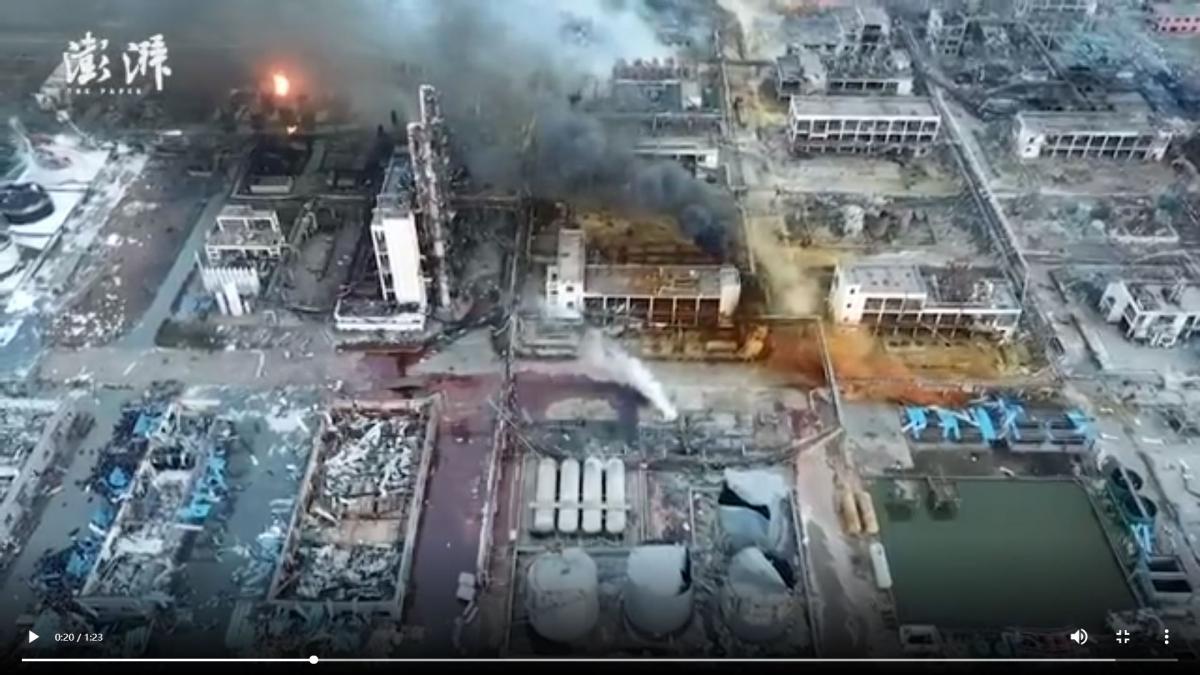 Aftermath of the explosion in Xiangshui, Jiangsu, as seen in a drone video published by The Paper.
Shockwaves affected 16 nearby plants in the industrial zone and shattered windows in the surrounding residential area. A magnitude 2.2 earthquake was recorded by the China Earthquake Administration.
As of Friday morning, 3 burning chemical tanks and 5 other hotspots were under control. At least 176 fire trucks and over 900 firefighters had been dispatched to the accident site to aid in rescue efforts, according to the South China Morning Post.
A total of 3,500 medical personnel and 90 ambulances from 16 hospitals had also reportedly been involved in the rescue operation. Over 600 wounded are being treated, the Xiangshui government's official Weibo account informs. It is unknown how many workers remain trapped.
Zhang Qinyue, general manager of Tianjiayi Chemical who was also injured in the accident, was put under police custody together with several company executives.
China Labour Bulletin's Work Accident Map recorded at least two similar fatal accidents across the country in the last few months: on 25 December 2018 an explosion at a chemical plant in Turpan, Xinjiang region, left 3 dead and 18 injured, on 22 November 2018 another explosion in Zhangjiakou, Hebei province, left 22 dead and 22 injured.
"Recently there has been a series of severe industrial accidents, relevant organs across the country need to learn a valuable lesson, strengthen safety inspections, vigorously enforce production safety regulations, resolutely prevent severe accidents, guarantee the lives and material well-being of the people," Chinese Communist Party secretary general Xi Jinping was quoted by CCTV with regard to the Xiangshui accident as he was leaving for Europe.
The chemical plant had been found to have 13 safety violations on record in an industrial safety report issued by the Ministry of Emergency Management (MEM) on 7 February 2018. These violations included: lack of qualified personnel, insufficient safety training, lack of clear safety protocols, poor quality control, poor safety signage, chemical tanks leakages, negligence of fire hazards. etc. Ironically, the MEM report introduction stressed on the importance of "learning the lesson" from an earlier explosion at a chemical plant in Lianyungang, Jiangsu province on 9 December 2017.
After the Tianjin explosion on 12 August 2015 that killed 173 people, including 104 firefighters, the Chinese government had already vowed to regulate chemical production and storage facilities. But as this latest industrial accident illustrates, companies continue to hire unqualified personnel to perform dangerous jobs, and workers continue to risk their lives in dangerous jobs with little or no training and minimal safety equipment.