Instead of addressing the legitimate demands of workers to establish a trade union, the government continues to suppress the Jasic workers and their supporters, thereby creating more and more problems for itself.
Two grassroots trade union officials in Shenzhen, Zou Liping and Li Ao, and a lawyer, Huang Sha, who was representing workers and labour activists connected with the Jasic Technology dispute, have reportedly been detained by the authorities, bringing the total number of people still detained for supporting the right of workers to unionise to more than 30.
The Jasic dispute began back in May this year when working conditions at the factory in the outlying Pingshan district of Shenzhen deteriorated to the point where workers saw no alternative but to bring their case to the local union.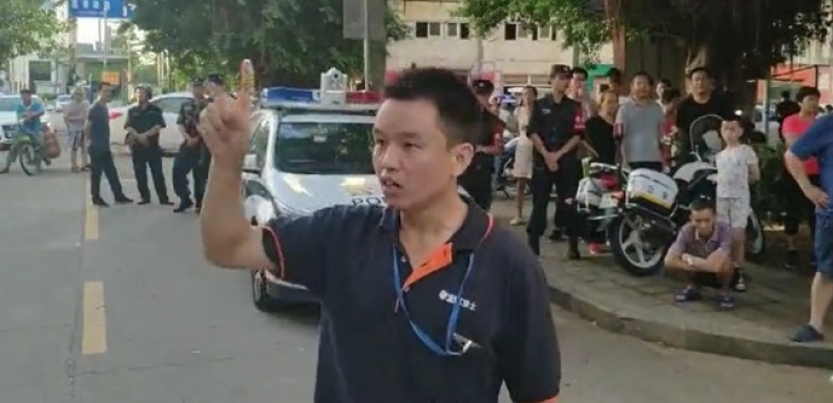 Jasic worker representative Mi Jiuping in July 2018
Zou Liping, who worked at the Zhukang Commune Trade Union, adjacent to the factory, helped Jasic workers with the application procedure to set up an enterprise union led by the representatives they had elected, a former Jasic worker told Reuters.
She also provided legal advice throughout the process: "She hoped to solve the dispute through legal means, she displayed real devotion to her work at the union," wrote the former worker on the Jasic Support Group's GitHub page.  "We are indignant and disheartened to hear that a union official who was dedicated to helping workers was taken away on 9 November," the worker added.
Zou's colleague, Li Ao was detained around the same time, however little information related to his case has been published apart from the fact that both he and Zou were detained by police on suspicion of "picking quarrels and provoking trouble"  (寻衅滋事罪). Zou and Li's efforts were apparently disregarded by the district union, which reportedly worked with Jasic management to set up a union that excluded worker activists.
Huang Sha, who was representing Jasic workers and the labour activists who supported them, was reportedly taken away from his home in Shenzhen by unidentified men on the evening of 30 November.
In response, the Jasic Workers Support Group issued a statement protesting these "acts of shameless violence against Jasic workers' supporters," and demanding that the authorities conduct "an investigation into the reasons behind the detention of lawyer Huang Sha and guarantee his safety."
Jasic worker leaders Mi Jiuping, Yu Juncong, Liu Penghua and Li Zhan have been in detention for 130 days now.  They are awaiting trial on charges of "gathering a crowd to disrupt social order" but have had limited access to legal representation.
China Labour Bulletin renews its call for the Shenzhen authorities to immediately release all Jasic workers who still are in detention as well as those detained subsequently for supporting their demands to establish a trade union.
The highly publicised Jasic struggle has brought to the attention of many the lingering social injustices and widening wealth gap in China after 40 years of economic reform; six months on, continued attempts by the authorities to contain and suppress the protests have only added to the government's problems.
Had the Pingshan district union done its job and followed the example of Zou Liping and Li Ao in helping Jasic workers to organize, and had Jasic management agreed to engage with worker representatives in collective bargaining instead of dismissing them, there would have been no protests, no arrests, no nationwide and international solidarity: and a straightforward local labour dispute over poor pay and deteriorating working conditions would not have turned into a major political problem for the Party.